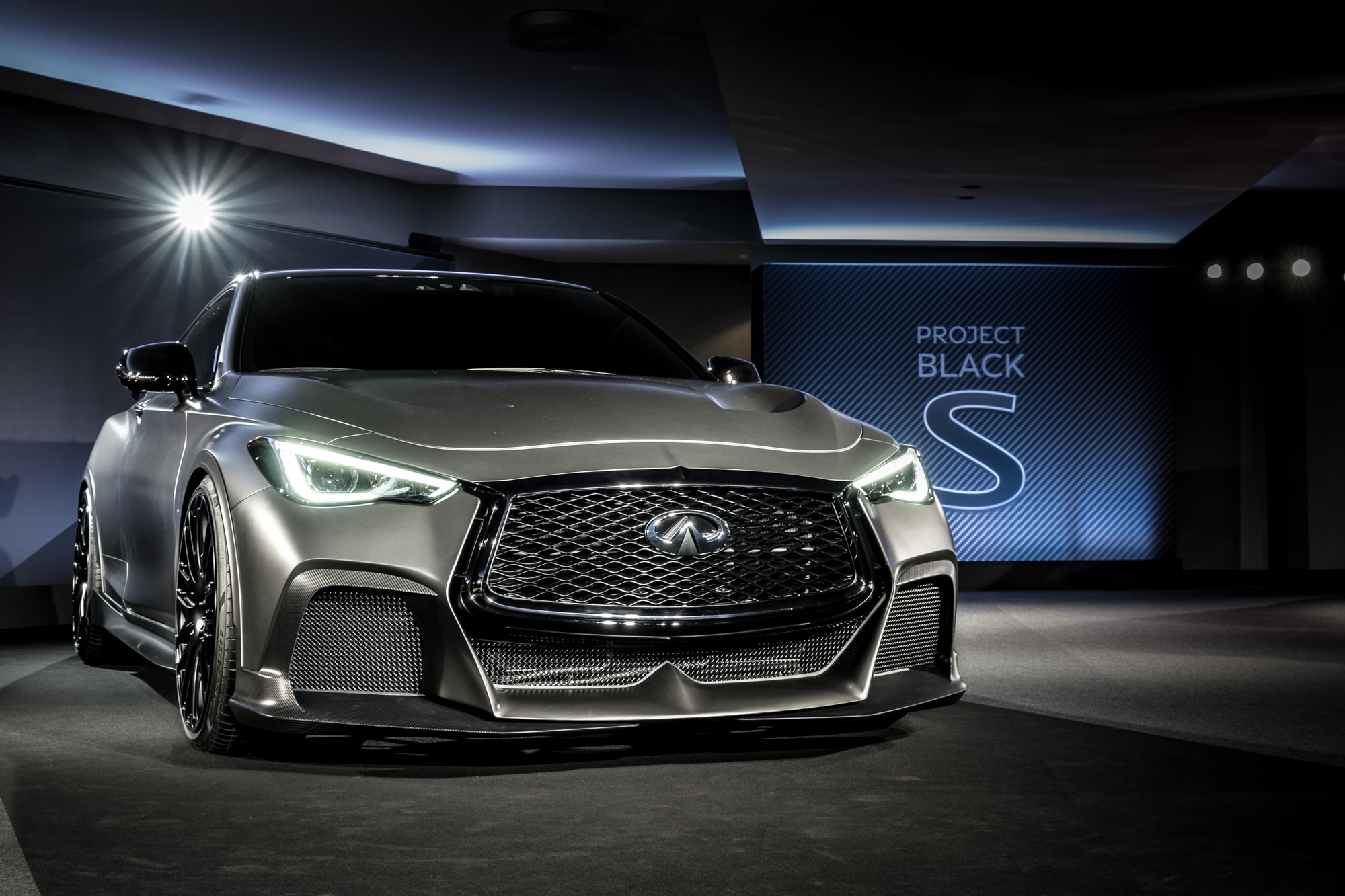 At the Geneva Auto Show, INFINITI announced that it has been exploring new avenues of development, specifically high-performance hybrid vehicles. Working in collaboration with the Renault Sport Formula One Team, the automaker unveiled the first creation of its new venture: the Q60 Project Black S.
"INFINITI is the premium car manufacturer within the Renault-Nissan Alliance, and a technical partner to the Renault Sport Formula One Team, so it is natural that we come together to explore the possibility of bringing innovative high-performance hybrid technology to our customers," said Roland Krueger, President of INFINITI.
Since INFINITI become a sponsor of Formula One five years ago, and subsequently a technical partner less than a year ago, fans have been anticipating a line of high-powered F1-inspired INFINITI models. Now, this may actually become a reality with Project Black S. Flaunting an aerodynamic carbon fiber design plus a performance-oriented hybrid powertrain, the Q60 concept showcases the potential of INFINITI performance and capability. According to the automaker, this vehicle would be the brand's "first consumer-facing Formula One-inspired car."
"Project Black S is a daring and elevated representation of INFINITI's performance DNA. It expresses our desire to create cars that are designed to perform, marrying the potency of a high-performance powertrain with a muscular new design," explains Alfonso Albaisa, Executive Design Director, INFINITI.
​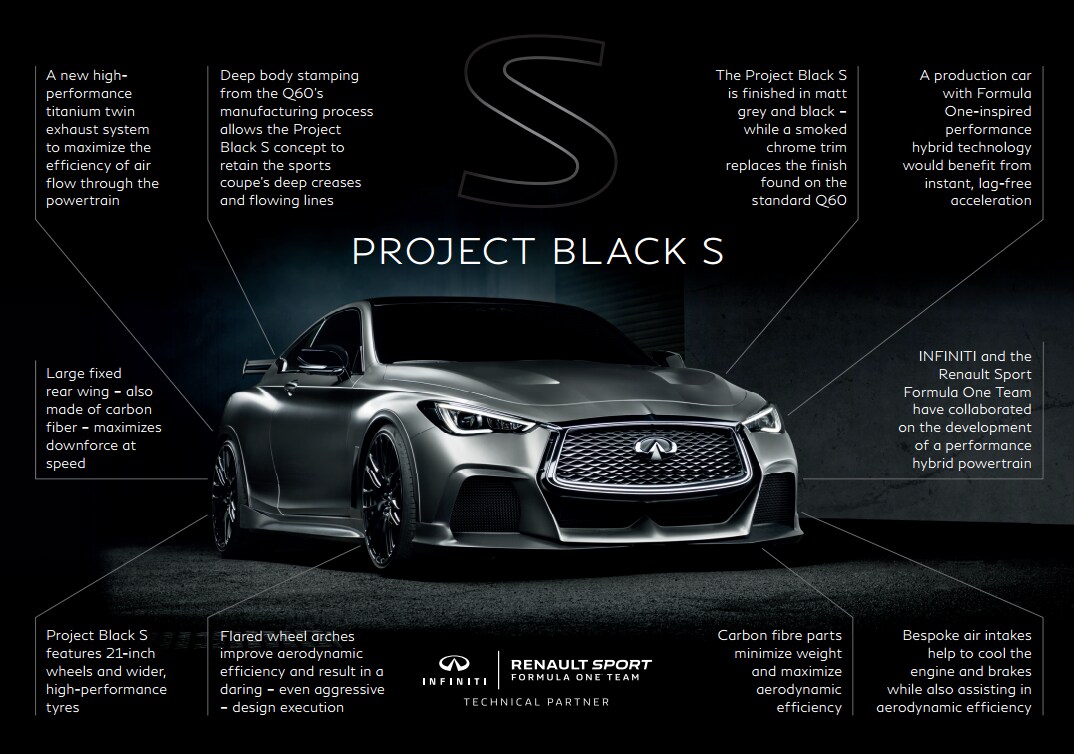 The Q60 Project Black S is based on the existing Red Sport 400 model of the 2017 Q60, which is already a best-seller among driving enthusiasts. Keeping in line with the Q60's heritage, the new concept explores many areas of high-performance design, including how innovative hybrid technology could be fine-tuned to offer impressive power for a road setting.
While INFINITI hasn't released exact specs on the concept's powertrain, the concept pairs F1 hybrid elements such as energy-recycling motor generator units and high-rate discharge batteries with INFINITI's award-winning 3.0-liter V6 twin-turbo engine. On the Red Sport 400, this engine is capable of 400 horsepower.
The Q60's sleek and seductive carbon fiber-equipped design is motorsport-breathed, and separates it aesthetically from the rest of the line-up. The body materials are lightweight, with a range of aerodynamic properties that would allow the vehicle to cut through the air with incredibly high downforce. Other features such as the enlarged air intakes help to circulate cool air through the engine bay, while hood vents release engine heat to further improve performance and efficiency.
INFINITI hasn't announced whether or not this project will be heading towards production yet, so stay tuned for the latest news on Project Black S. In the meantime, you can read about the automaker's other recent developments on our blog!