JX35 Update from Phoenix Infiniti Research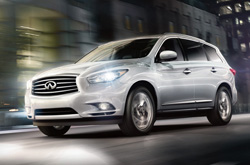 Welcome to the Infiniti of Peoria review of the 2013 JX35. It's hard to find the hard facts all in one spot. Infiniti of Peoria arranges these reviews so you have the best resources from the best writers. Every article comes packed with important data, specs and research - just what you need to make cognizant decisions on your next Infiniti JX35 purchase. Read on, but don't hesitiate to contact Infiniti of Peoria for more JX35 information.
Watch a Video on the New JX35
Infiniti JX35 Comparisons & Quick Specs
By examining the 2013 Infiniti JX35 head-to-head with the 2013 Acura MDX, Lexus RX, AUDI Q7 and the Buick Enclave, and you can find that the JX35 trumps those autos in many zones. Look through the hightlights below.
2013 Infiniti JX35 Cargo Space: 15.8 cubic feet
2013 Infiniti JX35 0-60 MPH in 5.7 seconds
2013 Infiniti JX35 Colors: Midnight Garnet, Glacial Silver, Midnight Garnet, etc...
2013 Infiniti JX35 Body Style(s): SUV
2013 Infiniti JX35 MSRP: $40,650
2013 Infiniti JX35 MPG: 18 city / 23 highway
2013 Infiniti JX35 Seats: 7 passengers
Infiniti JX35: Trim Levels, Features & More
Safety Features & Warranty Info for Phoenix Infiniti Buyers
Infiniti of Peoria's Service Center Is Here for You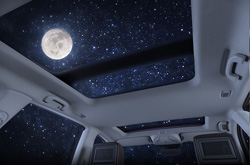 Don't look to a conglomerate car repair shop in Phoenix when Infiniti of Peoria's fantastic JX35 experts are only a brief commute away from where you live. We also give our customers confidence with a generous warranty on our jobs - more than most conglomerate shops do. When you bring your JX35 to our auto repair department in Phoenix, you'll get trustworthy service from our qualified mechanics. We handle a multitude of jobs with without breaking a sweat, including Infiniti battery replacement, brake pad checkups and, of course, strenuous tasks like muffler repair - and this is just a small percentage of what we can tackle. For both complicated and incomplex services, our Phoenix car repair center covers everything; furthermore Infiniti of Peoria offers budget maintenance pricing. Follow the link below to see our current service specials.